By Davit Kirakosyan
Here is your Pro Recap of the biggest insider trades and hedge fund actions you may have missed this week: news out of Under Armour and BDT Capital, Occidental Petroleum and Berkshire Hathaway, and top brass buys at Grocery Outlet, Align Technology , and CNX Resources.
InvestingPro subscribers got this news first. Never miss another market-moving headline.
Under Armour founder Kevin Plank sells $100 million of stock
Under Armour (NYSE:UAA) announced that BDT Capital Partners acquired around 16 million class C shares of Under Armour stock from Kevin Plank, the Executive Chair and Brand Chief. The current value of these shares is approximately $100 million.
Following the sale, Plank remains the largest shareholder of the company, holding approximately 51 million combined shares across the company's three classes (A, B, and C). This represents around 12% of the company's stock and grants him 65% of the voting control. Plank clarified that there are no intentions to sell any more of his shares.
Shares climbed around 10% for the week.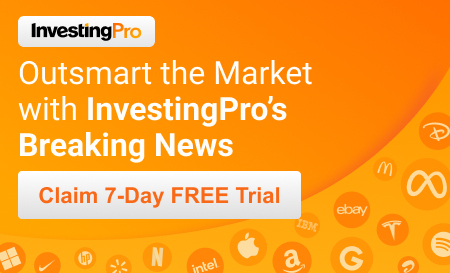 Warren Buffett's Berkshire adds another $270M of Occidental Petroleum stock
Berkshire Hathaway (NYSE:BRKa) disclosed it acquired another 4.66 million common shares of Occidental Petroleum (NYSE:OXY), worth over $270M, at $58.3026-$58.8545.
After the acquisition, Berkshire possesses 221,990,942 ordinary shares of Occidental Petroleum, in addition to 93,532 Series A Preferred Stock and warrants for an additional 83,858,848.81 ordinary shares.
Occidental shares added just under 1% for the week.
3 insider purchases
Grocery Outlet (NASDAQ:GO) shares rose more than 3% on Friday after Director Erik Ragatz disclosed the purchase of 70,000 common shares, or about $2M worth, at $27.99-$29.
Align Technology (NASDAQ:ALGN) shares gained more than 5% on Thursday after Director Kevin Dallas bought 7,000 common shares, or nearly $2M worth, at $285.2572. Dallas owns 12,246 total shares following the purchase.
CNX Resources (NYSE:CNX) Director Bernard Lanigan bought 137,835 common shares, or around $2.1M worth, at $15.2358.
In fast-moving markets, every second counts - and InvestingPro subscribers are always one step ahead with lightning-quick updates.
Start your free 7-day trial now.